Betty Lukens Through the Bible in Felt Small Deluxe Bible Story Set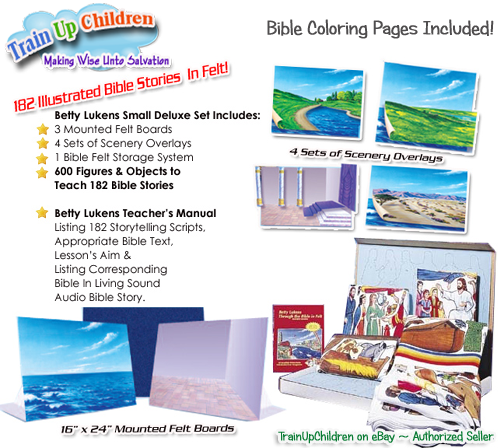 It's Betty Lukens complete collection of small Bible figures, realistic scenic backgrounds and overlays that parents & teachers can easily show children biblical customs & teach "His-story."

- 600 realistic 6-1/2″ figures and objects: Includes the same pieces as Betty Lukens Large Deluxe Set but smaller. You Get twelve figures of Jesus, plus men, women, children, animals, buildings, scenery items, tables, chairs, pyramids, tomb, ark, fiery furnace, and many, many more. (If you need a complete list of  figures, simply email us, we will be happy to send you more detailed information.)
All pieces come on large white sheets of thick felt ready for you to cut and place into your file system which is included in the set.
- 3 mounted backgrounds (16″ x 24″) – Water and Sky, Indoor & Purple. Each flannelboard is securely mounted onto heavy duty cardboard then reinforced with an additional cardboard backing for extra strength and stability.  This makes the board light weight but extremely sturdy. Plus, each board comes with a built-in easel perfect for table top teaching!
- 4 bright and colorful overlays – Hillside, Shoreline, Desert and Throne Room
- Teachers Manual with 182 stories & Correlating Bible Coloring Pages. See Below for More Details!
- Organize and protect all 600 felt pieces with Betty Lukens InstaFinder File System. You'll get 1 Large Box filing system with outlined figures for storing all 600 pieces.