Days of Creation
Origins are important for a solid foundational faith.  Bible study worksheets with traceable Bible verses help children review the importance of knowing that the LORD created all things for His glory.
From the first day of creation to the day of rest, these printables can teach and emphasize six literal days of creation along with the day of rest.
Peek inside the Days of Creation unit…  Here you'll find examples of activity worksheets for ages 4-6, traceable Bible verses for ages 6-8, seven day creation review cards, scenic background stationary for children ages 6-12 and as a bonus ~ days of creation coloring pages too.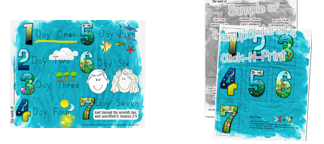 Follow-up Worksheet allows children to sequence the days of creation, practice handwriting skills, match number pictures to written words, and color pictures of Adam and Eve.
Cut & Paste Activity helps children connect God's six days of creation and one day of rest to seven literal days of creation.
Directions for printables included.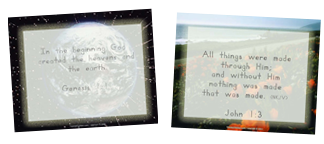 Your Choice of (7) Seven King James Version or (7) Seven New King James Version.
Children will learn Important Verses from Genesis to Revelation, which are CREATION Based ~ Declaring the Authority and Wisdom of our Creator.
Genesis 1:1 ~ Psalms 33:6 ~ Psalms 102:25 ~ Jeremiah 10:12 ~ John 1:3 ~ Colossians 1:16 ~ Revelation 4:11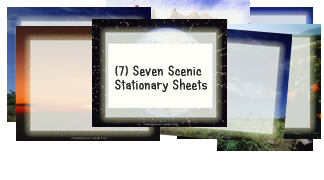 Perfect for Copywork Practice or as a Craft Activity Background.
With these Scenic Stationary Sheets, children can frame and decorate their worksheets then give them as gifts to family members, friends, maybe to the elderly in your church or a near by nursing home.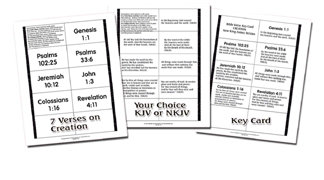 Bible Verse Cards Both in KJV and NKJV.
As a Group Activity: Have children work in pairs to match text location to the Bible verse. One matches while the other guides using the key card. When the first child has completed all the sentences, his partner takes his turn and the process is repeated.
Bible Study Unit correlates with
Little Folk Visuals Creation Circles.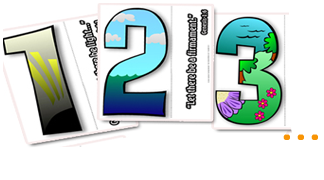 7 Day Number Review Cards with Memory Text.
Use as Bulletin Board Images, Wall Decorations, or Review Cards. Each Number is 5.5×11 and the Review Text is close to 3×11.
If you apply Velcro or Glue Dots to the back of these cards, they can be used on a flannel board as matching game activity too.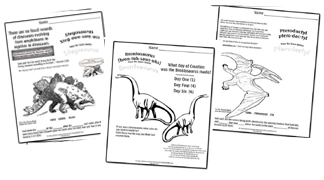 3 Bonus Colorsheets with Teaching Suggestions.
The Brontosaurus colorsheet helps children learn the meaning of Job 40:15-19, with practice reading, pronouncing and writing the word Brontosaurus.
Stegosaurus colorsheet emphasizes the meaning of "according to its kind" with fill in the blank teaching.
Children will discover that the word "dinosaur" was invented in 1841 when coloring the Pterodactyl colorsheet, plus locate Genesis 1:20 and fill in the blanks of the missing words.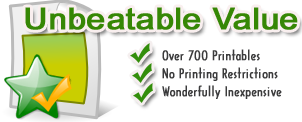 Yes, You Get Permission to Access All Prints and Use Unlimited copies…
By offering you a teacher-friendly copyright policy, we make Bible teaching aids affordable.